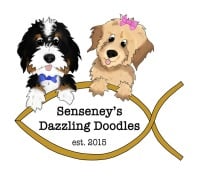 F1b Tiny Goldendoodle Puppies

Senseney's Dazzling Doodles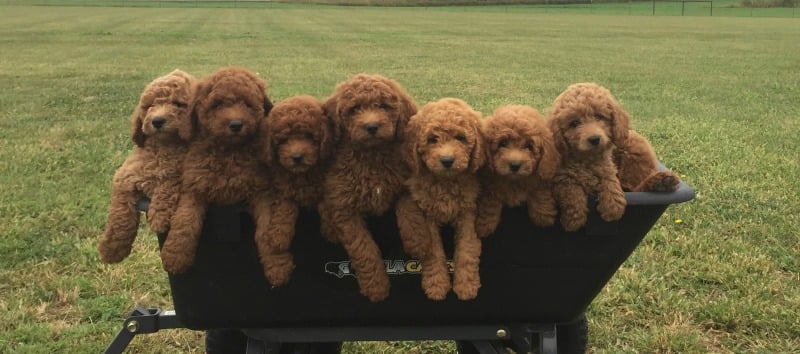 Goldendoodle Puppies in Southwest, Missouri
Goldendoodle Reservation & Waiting Lists
I am trying to make this list as efficient as possible and be fair to everyone. Instead of putting you on a certain "litter" I will put you on a list by breed: F1 and F1b Minis. This way if for some reason if a dog doesn't breed or something happens I can work down a list and people aren't out a puppy. I can also base my breedings based on demand. People will pick in the order deposits are received. If there isn't a puppy that fits your request, you will stay at the top of the list, but defer to the next litter. Puppies will be picked at 4 weeks of age and your name will be removed off the list and others will move up the list as puppies are picked. All puppies sold to Missouri residents will be charged 5.725% sales tax.​

Tiny F1b Mini Goldendoodles coming the end of 2018! Taking deposits now! $1850 for solids and $2250 for Partis or Merles. 10-25 lbs.
All our puppies are UABR registered and will be up-to-date on all their shots and dewormings. They will be well socalized with children, cats, and other dogs. All our puppies are micro-chipped and started on NuVet supplements at 6 weeks of age. Puppies are fed Nutri-Source Starter and wet food around 4 weeks. They are transitioned to Nutri-Source Seafood Select between 6-7 weeks. Puppies are puppy checked at 6 and 8 weeks of age. Puppies can go home at 8 weeks of age. Ground shipping (leaves Monday, arrives to you Monday or Tuesday, average cost $200) and air shipping is available on Fridays for $350 (puppy comes with a travel crate)

We are taking deposits on our upcoming summer/fall litters now. Planned breedings:

-Lily & Mickey- estimated to be born June-August 2019 (expecting reds, apricots) first time pairing
-Rosey & Max- estimated to go home between August-October 2019 (expecting red, apricots, partis?) first time pairing
​ F1b Tiny Goldendoodles- 2018 Litters

​Expecting 2 litters in the summer/fall.


1. Breeder

2. Breeder

3. Cynthia Johnson- puppy (fall)
4. Veronica Tackman- male (fall)

5. Nathan & Juli- puppy (summer)

6. Sandee Marcum- female (fall)

7. Paulette Crohn- male 
8. Terri Chadd- female

9. Linda Helm- female 
10. 
11. 
12.